---
Quick Navigation: MAIN PAGE POTTYTIME Internet Radio Sitters/Nannies ABDL Links Affordable Un-Potty Training Solutions SoCalAB Store HOW TO STUFF DISPOSABLES Twitter SoCalAB CURSER DOWN FOR MORE!!
---
SOME VIDEO SUGGESTIONS FOR AB'S AND DL'S




Stop! or My Mom Will Shoot

There's a quick scene in here of the Sly man in diapers. It's worth a laugh!


The Baby
A man is never allowed to grow up. He is kept prisoner by his mother and sisters and treated like a baby.


Baby Geniuses
A fun film for kids of all ages!



---
ENJOY SOME GREAT MOVIES!


---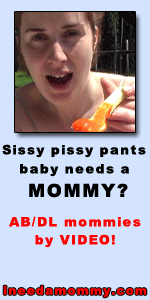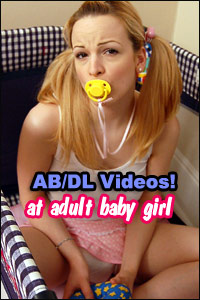 Socal AB Web Page - Links
SOCALAB MAIN PAGE - mike a's AB Story - Friendly Links Page - SoCal Gatherings

---

PRIVA PANTS ON SALE!!!
3 PAIRS for under $10 plus shipping!!
CLICK HERE!!!

---