DIAPERED EVENTS FOR ABs





ACTIVITES, MEETS AND EATS IN SOUTHERN CALIFORNIA!

Now accepting applications for diapered crew.



Do you like the outdoors, fresh air, adventure and the ocean?

If you like to sail or if you would like to learn and are in the Los Angles/Long Beach area this is your opertunity to join me on sails in the Southern California waters. I am looking for open minded people who might also have free time to spend diapered weekends in Catalina. Sailing is not for everyone and prospective crew should be in good health, physically fit and able to handle lines and sheets. All sails depends on weather conditions and the only cost is your food and diapers.

For more information contact: SoCalAB



---
MEETS





LOS ANGELES, CA JULY 15, 2017
---


Vermont Diaper Party!!!
Click for info - Next event slated for the weekend of May 28-31, 2009.


---

Adult BABy camp last weekend of June 2009 to meet others for a CHANGE!!
2 hours East of Yellowstone NP this camp is a great spot to take a summer vacation.
FREE EVENT
There is no charge for bABy camp if you bring your own food and bABy supplies.
Click here for more info and pics from previous camps


---


New Hampshire Campout Announced for August 2009

contact: Baby Stephie for information


---
REGULAR MUNCHES
INKY WONKY'S MONTHLY MUNCHES IN SALEM, OREGON
CONTACT: INKYWONKY

---






Toronto area regular monthly munches - Contact Orca
There are so many Ageplayers, AB's and DL's in Toronto and surrounding areas.

Check out the Toronto Area AB/DL/AgePlay Munch website

WHEN:The munches take place every 3rd Saturday of each month.
TIME:Munches take place at 6:00pm until whenever.
WHERE:The Groundhog Pub, located near the corner of Bloor St. East and Sherbourne in downtown Toronto.


---
Regular monthly munches in the Kentville, Nova Scotia area.
Contact Baby Aya


---


PAST EVENTS


POSTED IN ABY THIS OCT 2007



Hey Southern California!

It's time for another ABDL get together. This gathering will be at the Moonlight Roller Rink in Glendale CA.

All ages are welcome and encouraged. The night is Saturday October 20th. The rink is open from 7:30pm - 11:00pm.

Cost to enter is $7.75, and if you need to rent skates it is an additional $3.25.

The address is 5110 San Fernando Rd. Glendale CA. 91204.

Their web page is Moonlightrollerway.com

Please read their dress code requirements, although they don't look to harsh.

Just please remember this is a public place when deciding what to wear.

There will probably be an after party a few blocks away, when the rink closes if anybody needs to come over and change.

Hope you can all make it, and remember if you fall down you'll be padded.

---
Remember: When in public to dress appropiately.
No diapers showing and to be considerate of others.

If you have an event and would like it posted here
please contact SoCalAB socalab@verizon.net

---
Check this page often for upcomming Events
This page last updated 07/16/2009

---
Contact Mike A:





GOT MP3?


MALE VOICED REGRESSION WITH WETTING IN DIAPERS ONLY!!!
With Swim Diapers
Watersports just won't be the same!

Click on the swim diaper for more information


---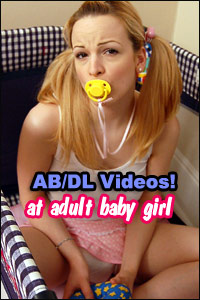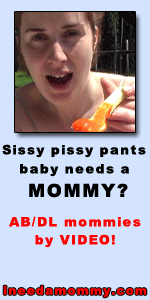 ---